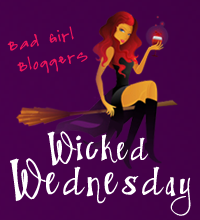 It's Wicked Wednesday bitches and shit runs pretty simply with the Bad Girl Bloggers, mostly because we're still drunk from last night and refuse to dwell on the bullshit! Just post something wicked to entertain our asses, okay sluts?
Take our skanky ass button

Post something amazing

Link your post up to the linky
Told you we were easy... Oh fuck, I didn't? Well, was it really all that difficult to draw your own conclusions???
Link up whores, and come back tomorrow for a titty-tastic interview!