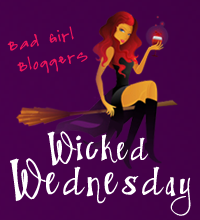 All you wicked bitches out there... It's time for the very first Wicked Wednesday with The Bad Girl Bloggers! I know right?
Here's the deal hoes:
Grab our button (that you all fucking LOVE by the way!) and link a Wickedly bad ass post up to our linky list! I know you sluts have some shit to spill, so break out your stilettos and make this Bad Girl proud.