It's that time of the week again! This month has been hotter than hell and this week's Featured Bad Girl pointed out that the weather could be much better reported by bad girls! So this week's code?
Tit Sweat is Imminent
(much more effective than "Hot as Balls", doncha think?)
This Week's Featured Bad Girl!
Saucy B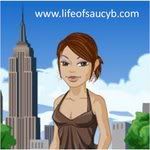 THE RULES
The Button must be visible. Put it in your post or in your sidebar, I don't care, but we have to see it. If it's not there, you're link will magically disappear ;)
You must go give love to the week's Featured Bad Girls. If you'd like to just give them a shout out and link in your post that's fine, or if you'd rather visit them and leave a comment, whatever floats your boat. Let's make sure they feel the love though.
The code needs to be on your blog. In your post, hidden in a side bar, wherever really. Have fun with it!
Want to be a Featured Bad Girl? We NEED your guests posts! If you want to be considered for an interview on Talk to Me Thursdays, simply e-mail us!