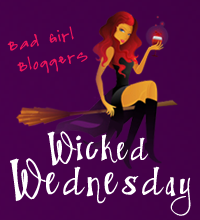 So I've obviously lost my mind because it's Wicked Wednesday and today I've decided that there are no rules as to what you have to post about! Just link us up to your bad ass post and tell why you think it's worthy to wear the Wicked Wednesday badge! It has to be original, not a re-post, but aside from that you're good.
Ok, so maybe there were a few rules.
So go ahead, link-up your torrid tales of debauchery, or a video of your favorite bad girl anthem, maybe even a sexy pic you want to share! Hell, I'd love to see some top ten lists go up with this!
Ready, Set, Link-up!